The Most Unique Laundry Service for 2024 – Here's a Sneak Peak

On-Site Laundry Service – clothes never mixed
Customized for You with free add-ons – see below
Extra Wash and Rinse Cycles
Air and Hang Dry Options (Delicates/Gym Gear)
Complimentary Loyalty Program for Free Laundry
Laundry Your Way
Welcome to a new laundry experience for almost 2024. Your laundry problems are solved…We have listened to your suggestions, responded to your requests and enhanced our services for you! Todd Layne Cleaners and Laundromat handles special requests, hang/air drying for gym clothes or delicates and the ability to provide special instructions for water/dryer temperature and fold method.
Fearful of Sending out your Laundry?
We recognize that many customers are reluctant to send out their laundry because they are concerned about cleanliness and don't think someone else can follow all of their special instructions. We accept this challenge and serve as NYC's #1 choice for laundry service.
If you have lululemon or other nice gym gear and delicates, this is the laundry service for you.  Specialized laundry the way your mom would do it…sorry but you do have to pay us 🙂

Free Extra's and Premium Cleaning Products
Premium Detergents
Stain Fighters and Color Boosters
Fabric Softeners and Wrinkle Reducers
Infused Scent Boosters
Lysol Sanitizer for Odor, Virus and Bacteria Removal
Pre-Treat Stains with Oxi-Boost
Choice of Washer and Dryer Temperature
Custom Fold Method
Click here to see our new laundry menu! You can customize your laundry with choices of complimentary detergent, stain fighter, fabric protector and scent booster. We only use premium products from brands like Tide, Downy, Gain and Seventh Generation. Choose your water/dryer temperature and try our hang or air drying service for your gym clothes or delicates that cannot be dried. We can pre-treat stains and special requests are always welcome.
We Never Mix your Clothes with Anyone Else's!
We never outsource your laundry or mix your clothes with anyone else's (Yes, we know it's gross but that's how it's done by most "laundry" companies in NYC.) If you're wondering how they manage to keep track of your laundry, it's placed in a large mesh bag and washed in the same machines as multiple other people in large factories in Brooklyn and Queens. New Yorkers are savvy enough to know that you get what you pay for.
All laundry at Todd Layne is done in our own Laundromat at 242 and 244 East 77th Street. Extra wash and rinse cycles are always included. We control the entire process, which helps to eliminate lost socks.
When searching for a laundry company, always make sure that they have their own Laundromat. Many companies in NYC are just websites and outsource laundry to someone else.
Cleanliness is Key
Because we have our own Laundromat and control the entire process, we have the ability to maintain high standards for cleanliness. We hope that we can serve as a model for the rest of the laundry industry in NYC and that these standards will be adopted by all.
Washers and dryers are scrubbed throughout the day and flushed with vinegar. Surfaces and touch-points are cleaned with Lysol. All staff wear gloves when handling dirty garments and wear latex disposable gloves when folding your clothes. Masks are worn at all times. We have a new video surveillance system to ensure cleaning procedures are being followed and to effectively track all clothing handled in our facility. We weigh your bag before and after cleaning to ensure that you receive whatever you give us. Stop by and take a look.
Temperature Controlled Dryers – No Shrinkage
Commercial laundry facilities save money by drying customer's clothing together in the same dryer at very high temperatures. Besides the hygiene issue, clothing definitely shrinks. All of the dryers at the Todd Layne Laundromat are configured at much lower temperatures and we never mix customer's clothing together. This costs us more, but we hope that you agree it's worth it.
Gym Clothing and Delicates
Hang Dry – Returned damp on hangers (no limit)
Air Dry – Returned dry on hangers or folded (no limit.) This new service uses specially calibrated dryers with dehumidified air and no heat.
Do you have Lululemon or other nice gym clothes and other delicates? We can either hang or air dry these items. Hang dry items are taken out of the washer and returned damp on hangers. Air drying is a new feature at Todd Layne. Garments are placed in a specially calibrated dryer with just dehumidified air and no heat. These items are returned dry on hangers or folded.
Lysol Laundry Sanitizer
When it comes to certain laundry loads like gym garments or baby clothing, you may want to remove the bacteria that causes illness and bad odors. We now offer Lysol Laundry Sanitizer which kills 99.9% of bacteria and contains no bleach. This is available free of charge. Ask for it today.
Special Requests – Talk to Us
Whether it's a unique detergent or a particular way that you like your laundry folded, just let us know. Special requests welcome. Text or call anytime with your questions at 646.661.4777.
Eco-Friendly Laundry Detergents for Allergy Sensitivities and Baby Laundry
Hypoallergenic wash and dry for your baby's clothes or your sensitive skin
Choice of special detergents and softeners
Machines are cleaned with vinegar and flushed without detergent before use
Surfaces are sanitized and special gloves/masks are worn by our staff for the entire process
Need a hypoallergenic wash and dry for your baby's clothes or sensitive skin? No problem! We have dedicated washers/dryers for our hypoallergenic laundry service and use unscented eco-friendly cleaning products (or Dreft for babies.) Machines are cleaned with vinegar and flushed without detergent beforehand and special gloves and masks are worn by our staff for the entire process.
Free Laundry Loyalty Program
Ask for a TLC Loyalty Card and get one wash and fold laundry order free (max 20 lbs) after doing ten washes with us.
Waiting List 
Our laundry service has become a bit more popular than we anticipated… it's unique and detail-oriented with many choices and special instructions. At times, we have a waiting list for new customers. Text us to find out at 646.661.4777 and we can give you a quick answer…
Our Retail Storefronts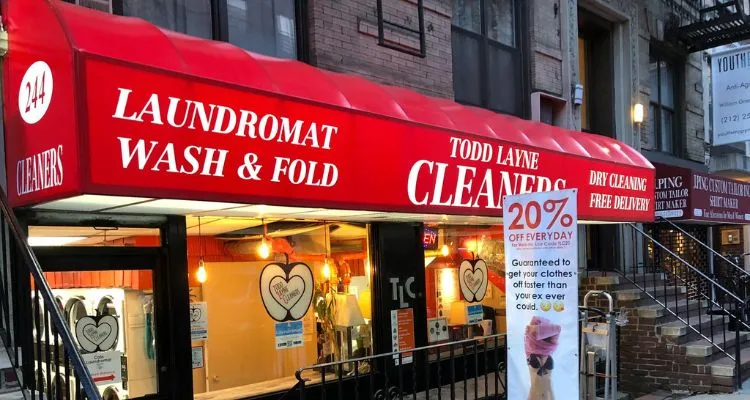 Our stores are located at 242 and 244 East 77th Street in NYC. You can drop off your garments if you like…or stop in to see our operation and say hi 🙂
Want to do your own Laundry?
We have a renovated self-service Laundromat that is open to the public. A change machine is on the premises and detergent is available for purchase. The hours of the Laundromat are the same as for the store. Last wash is one hour before closing time. Dryers are not available for customers that didn't wash their clothes in our facility.
Same-Day Laundry Service
We can generally accommodate same-day service (for no additional charge)  if we receive your laundry before 10am. However, there are peak days and times when we are unable to provide a same-day turnaround. In those situations, your laundry will be ready the following day.
Preferences and Special Requests
We store all of your laundry preferences and special instructions in our website tool to make it as simple as possible for you. You can select your premium detergent, stain fighter, fabric protector and scent booster… and let us know about any special requests. All of these selections can be viewed and changed in the Care Preferences section of our website tool.
Free Delivery in NYC
We are now offering free pickup and delivery throughout NYC. To learn more about this service, click here. Of course, you are always welcome to stop by our store with your laundry and receive the best pricing.
Questions?
No laundry request is too difficult for us. You're on a journey towards a stress-free laundry day. Please let us know if you have any questions by texting or calling 646.661.4777 and one of our trained laundry experts will quickly respond. Attention to detail is our specialty, we've been providing custom laundry solutions since 2006.