Eco-Friendly Dry Cleaning, Shirt Laundering, And Tailoring
The Best

Eco-Friendly Dry Cleaning

Service
In the bustling heart of Manhattan, where every minute counts, Todd Layne Cleaners (TLC) stands as the beacon of convenience and innovation for discerning professionals. Founded by Todd himself, a former McKinsey consultant, TLC was born from a vision to revolutionize dry cleaning and laundry services. We're not your run-of-the-mill dry cleaner; open late and even on Sundays, TLC breaks the mold, making dry cleaning fit your schedule, not the other way around.
Todd's months of diligent research shine through in every detail – from eco-friendly practices to our customized laundry offerings. We're not just a dry cleaner; we're your reliable partner, dedicated to making your life easier. At TLC, we've reimagined dry cleaning for the modern Manhattanite, and we invite you to experience the TLC difference today.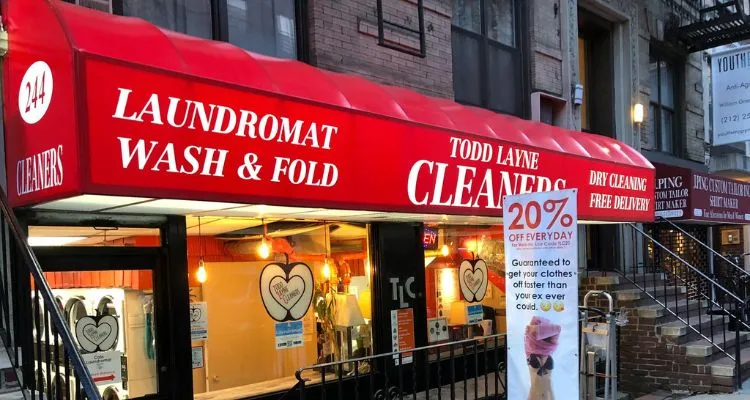 Our Standards

We Keep It Professional
Better For You & The Environment
With our quality green dry cleaning process, there is never a chemical smell and garments will have a longer lifespan since they are not immersed in harsh chemicals. Feel comfortable using this service…better for you, your clothes and the environment.
Trained Stain Removal Professional
Unlike most dry cleaners, we have a trained "spotter" in the plant with over twenty years of experience. All stains are treated and removed before the standard cleaning process.
How Garments are Pressed
We never use hot irons on your garments. Our process uses gentle steam which is applied by hand for a perfect finish for your garments. This process is more time consuming, but we feel that its worth it to protect your garments and keep them looking like new.
The Finishing Touch
Special hangers are used for suits/blazers and complimentary storage bags are provided for sweaters. Our quality control process involves three steps to make sure that stains are removed and that every garment looks perfect before being returned to our customers. Attention to detail is our specialty, we've been demonstrating our commitment to eco-friendly dry cleaning since 2006.
Say Goodbye To Laundry Day
Who wants to be doing laundry when you live in the greatest city in the world? Spend your day visiting Governer's Island, or take the day off to stretch out at Little Island! There are hundreds if not thousands of things you could be doing instead of laundry. We'll take care of it for you while you go off to enjoy your day, stress free!
Other Services

Shirt Laundering & Tailoring
Shirt laundering is available for men's and women's dress shirts. Unlike other dry cleaners, we scrub the cuffs and collars of all shirts before they are cleaned. Shirts are washed with natural soaps and gentle steam is applied by hand for a perfect finish.
Dark colored shirts, linen, silk and moderately stained garments will have a better look and feel with our dry cleaning process.
Tailoring services are available for basic repairs like holes, tears and hems. Zipper repair and replacement is also available. We have partnered with a weaving specialist and seamstress for in-home intricate tailoring. For additional information, please text or call 646.661.4777.
The Pickup and Delivery radius has expanded over the years. While initially only covering a few blocks from the store and eventually offering pickups/deliveries to the Upper East Side, Todd Layne Cleaners now covers all of Manhattan. A partnership was established with DoorDash and another courier service to conveniently offer free and quick 30 minute delivery windows throughout NYC.
A new Online Scheduling tool allows customers to store all of their laundry preferences, like detergent, stain fighter, fabric protector and color booster.
You can also place an order by calling or texting us at (646) 661-4777.
There is also a section for special instructions, anything from a specific type of detergent to the way that clothes should be folded. Pickups/deliveries can be coordinated and text messages are sent throughout the cleaning process with updates and reminders to setup a delivery or recurring service.
Todd strives to continuously improve the service offerings and stay up to date with technological advances to remain relevant with client's lifestyle, maximize convenience and save  time.
Place an Order Now with Todd Layne Cleaners
Follow us @toddlaynecleaners on Instagram to receive even more great discounts! 
Quick, Convenient and Affordable – Eco-Friendly, Family Owned and Trusted…the Best Laundry and Dry Cleaning Company in NYC since 2006 with Free Delivery.
Our values are based in diversity, equity and inclusion…feel comfortable using us.