When Todd passed by two empty storefronts on 77th Street in early 2006, it occurred to him that there was a definite need for Eco-Friendly Dry Cleaning and Customized Laundry offerings. It had never made sense that Dry Cleaners were not open late or on Sundays. Todd had worked in the consulting world at McKinsey and Company, so he had a good idea how to develop the concept, business plan and financials for a new company.
Todd spent several months shadowing owners in neighborhood Dry Cleaners/Laundromats and asking as many questions as possible. He made a list which contained everything that he thought could be improved and entirely new services.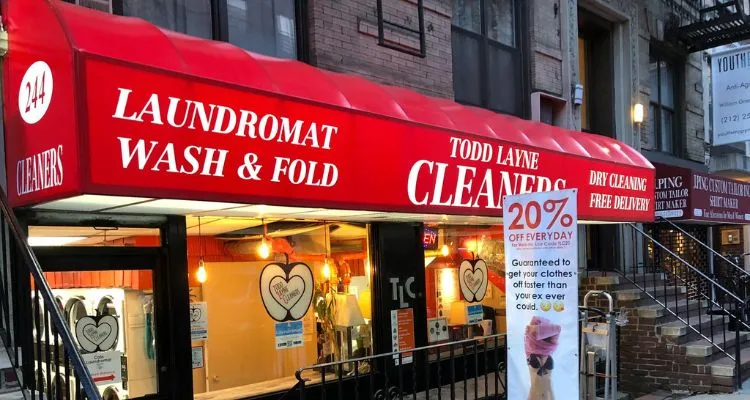 Our Standards

We Keep It Professional
The Customized Laundry Concept
Many buildings in New York City do not have washers and dryers and it seemed that people would be willing to pay a little more to be able to choose from premium detergents, fabric protectors, stain fighters and color boosters. Offering the customization of water/dryer temperature and the ability to hang/air dry gym gear and delicates also made sense. Staying open late and being open on Sundays sweetened the pot a little more. Most important, a promise to never mix customer's clothing in the same washer (this is done by placing customer's clothing in mesh bags and washing together in the same machine.)

The Eco-Friendly Dry Cleaning Concept
Researching the current Dry Cleaning solvents at the time revealed that most garments were being cleaned with a toxic chemical called Perc. This chemical was found to be a carcinogen in the state of California. Some new technologies were emerging and Todd decided to be one of the first to offer Eco-Friendly Dry Cleaning and garments that were finished with gentle steam instead of a hot iron.
Taking a Chance – Todd Layne Cleaners
When Todd approached the Landlord of the building on 77th Street about leasing the two empty storefronts, he told him that he had no experience and would never make it. Todd persisted and sent his resume, competitive advantages and complete business plan on several occasions. Eventually, the Landlord relented and gave the green light to move forward. On August 11th, 2006, Todd Layne Cleaners & Laundromat opened its doors to the public.
A Second Location on the The West Side
Todd Layne Cleaners quickly became profitable and a friend asked about opening a second location on the West Side. Todd and Peter subsequently became partners in a second location on Ninth Avenue. They sold the location approximately three years later after a competitor made an incredible offer that they couldn't refuse to take over the space.
Say Goodbye To Laundry Day
Who wants to be doing laundry when you live in the greatest city in the world? Spend your day visiting Governer's Island, or take the day off to stretch out at Little Island! There are hundreds if not thousands of things you could be doing instead of laundry. We'll take care of it for you while you go off to enjoy your day, stress free!
Offers

New Service Offerings
Service offerings expanded over the years and Todd Layne now offer a Wash and Fold menu with additional choices. Other services include leather/suede cleaning, tailoring, wax jacket reproofing and specialty cleaning for Canada Goose/Moncler/Mackage jackets. The Laundromat has also been renovated with state-of-the-art equipment for the best cleaning and a nicer environment for clients that want to do their own laundry.
Due to numerous customer requests, Apartment Cleaning with eco-friendly products has also been added as a new service line.
The Pickup and Delivery radius has expanded over the years. While initially only covering a few blocks from the store and eventually offering pickups/deliveries to the Upper East Side, Todd Layne Cleaners now covers all of Manhattan. A partnership was established with DoorDash and another courier service to conveniently offer free and quick 30 minute delivery windows throughout NYC. A new Online Scheduling tool allows customers to store all of their laundry preferences, like detergent, stain fighter, fabric protector and color booster. There is also a section for special instructions, anything from a specific type of detergent to the way that clothes should be folded. Pickups/deliveries can be coordinated and text messages are sent throughout the cleaning process with updates and reminders to setup a delivery or recurring service.
Todd strives to continuously improve the service offerings and stay up to date with technological advances to remain relevant with client's lifestyle, maximize convenience and save  time.
The Todd Layne Guiding Principles
In memory of his father, Todd strives to always live and operate his business according to the common set of principles that he lived by…honesty, integrity, respect, hard work and good will. A portion of sales is donated to local community charities.
Trust Todd Layne for your laundry and dry cleaning needs. We hope that you enjoy all of our services and believe that when you clean well…you feel well!
You're on a journey towards a stress-free laundry day and we're here to answer your questions. Call or text us anytime at 646.661.4777. Whether you have a request for a specific detergent or need more information about our delivery service, please feel free to be in touch with us and one of our trained store staff will respond quickly. Welcome to the TLC family!
If you are an existing customer, we would love to hear your feedback. Text or call us at 646.661.4777 or send an email to [email protected].
Thanks for reading,
Brett Ofsink – Author
Place an Order Now with Todd Layne Cleaners
Follow us @toddlaynecleaners on Instagram to receive even more great discounts! 
Quick, Convenient and Affordable – Eco-Friendly, Family Owned and Trusted…the Best Laundry and Dry Cleaning Company in NYC since 2006 with Free Delivery.
Our values are based in diversity, equity and inclusion…feel comfortable using us.